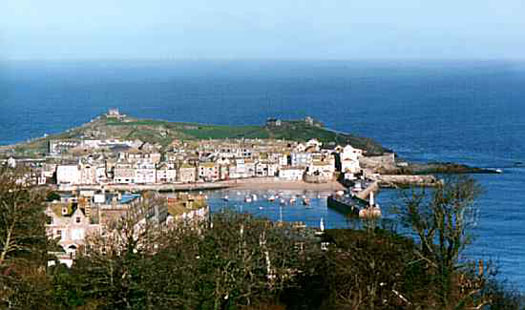 The historical town of St Ives lies on the North East coast of Cornwall's Penwith peninsula.
St Ives is known for its craft shops and art galleries, and is home to the Tate Gallery, the Barbara Hepworth Museum and Sculpture Garden and the Penwith Gallery.
External link to Tate St Ives Homepage
External link to Barbara Hepworth Museum Homepage
External link to The Penwith Gallery Museum Homepage
The town derives its name from Saint Ia of Cornwall, an Irish princess from the 5th or 6th century. Saint Ia is said to have travelled across the Irish sea to Cornwall on a leaf. The Cornish name for St Ives is Porth Ia, meaning "St Ia's cove" and the parish church of St Ives is named after her.
St Ives has a total of seven beaches within easy walking distance. Following the coast from East to West, these are:
Porthmeor Beach
Porthgwidden Beach
Breakwater Beach
Bamaluz Beach
Harbour Beach
Lambeth Walk Beach
Porthminster Beach
Further to the west lies Clodgy Beach and to the east lies the larger beach of Carbis Bay.
The oldest pub in St Ives is the Sloop Inn on the sea front overlooking Harbour Beach. The existing building dates from the 16th or 17th century although the pub itself is said to have been established in 1312.