Click on the maps to view a picture of each location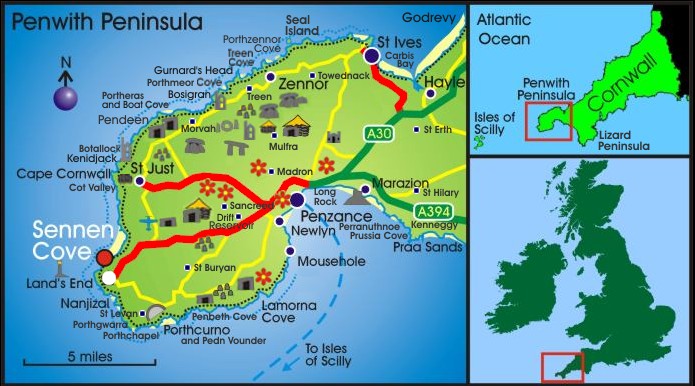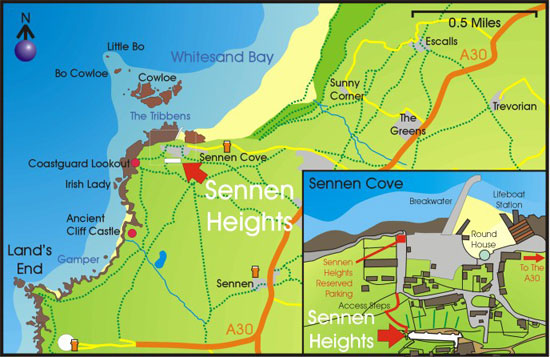 Walks and Rambles

The South West Way, the longest coastal path in Britain, passes through Sennen Cove, with Land's End and Porthcurno to the South and Cape Cornwall to the North.
Beaches, Coves, Towns and Villages

Pub, Restaurants, Cafés and takeaways

Attractions and Gardens

Theatres

Museums and Gallerys

Ancient Monuments and Mystical Sites

This area of Cornwall is rich in folklore and contains many ancient stone circles, standing stones, hill forts etc.
There are many others to be discovered. We recommend 'Journey to the Stones' by Ian Cooke.
The Isles of Scilly

Fly to the Scilly Isles from Lands End Aerodrome, near St Just, or sail by Scillonian ferry from Penzance. The Land's End Aerodrome sometimes teams up with the ferry and they often do special day
trip deals advertised in the Cornishman newspaper.

For more infomation visit the
Isles of Scilly Travel Website (External link)
Full Map Keys:
South West Coast Path

Penwith Heritage Coast

Primary Route

Other A Road

B Road

Carn Euny – Ancient Village
Chysauster – Ancient Village

Lanyon Quoit – Ancient Site

Mên-An-Tol – Ancient Site

Merry Maidens – Stone Circle

Trengwainton Gardens