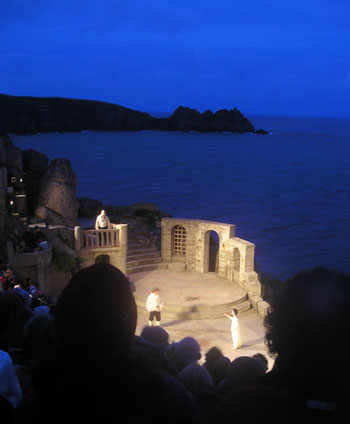 The Minack is a spectacular open-air theatre set in the cliffs overlooking Porthcurno.
The theatre was first built by Rowena Cade in the early 1930, with the help of her gardener, Billy Rawlings, and was slowly improved and expanded by her over the years. The first play performed there was a production of Shakespeare's The Tempest in 1932.
Nowadays, around 20 plays are staged each year at the Minack between Easter and September, with visiting performers from around the UK and elsewhere. The theatre is also open to visitors throughout the year for a small entrance fee.
The picture above shows a scene from The Tempest performed at the Minack in 2007 to mark the theatre's 75th anniversary.