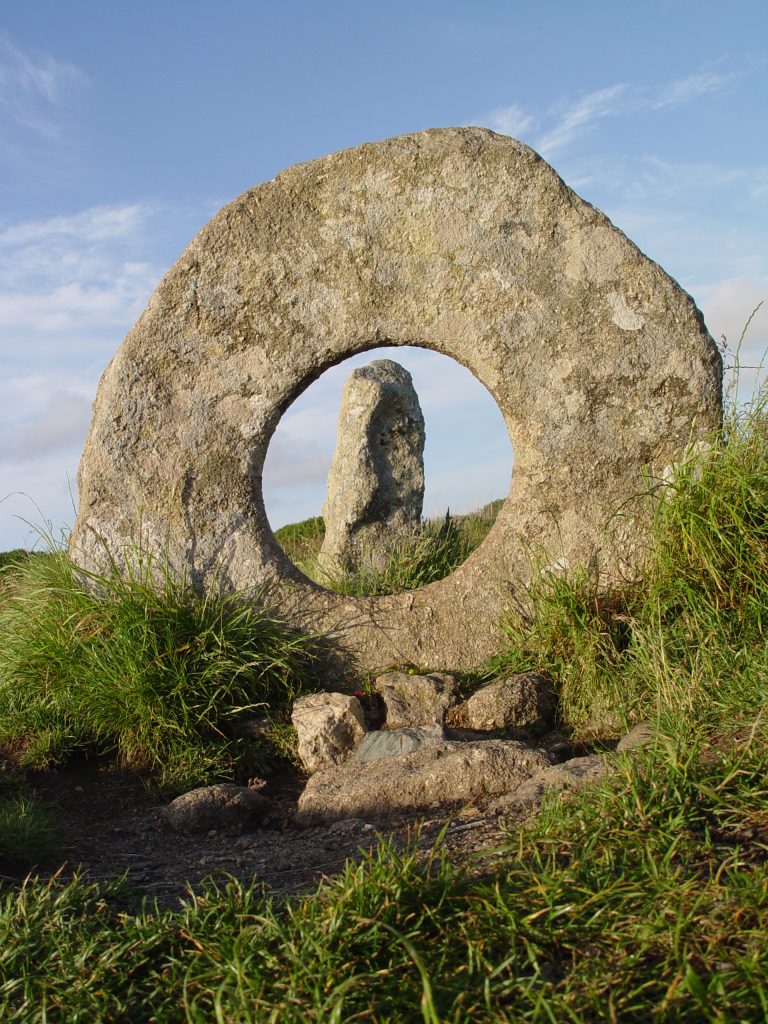 Coordinates: 50°09′31″N 5°36′16″W
Ordnance Survey grid reference: SW426349
Mên-An-Tol consists of four stones – one fallen, two uprights about four and a half feet high, and a circular stone positioned between the two uprights. The circular stone is set on its edge and is pierced by a hole large enough for a person to crawl through.
The name Mên-An-Tol derives from the Cornish for stone of the hole.
The stones are believed to originate from the early Bronze Age or late Neolithic, between four and five thousand years ago, although they are not in their original positions. The first known sketch of the site, made by William Borlase in 1769, shows the two standing stones were offset from the circular stone, with an angle of around 135 degrees between them.
Nearby, there are at least six fallen stones, some of which are buried, leading to suggestions that the site might once have been a stone circle.
The holed stone might have served as a centrepiece to the circle, or possibly part of a nearby tomb. There is a low stony mound just to the southeast and two early Bronze Age barrows or cairns within 150 metres to the north.
Mên-An-Tol is associated with healing rituals where the 'rebirth' of healing was symbolised by the sick person being passed through the holed stone.