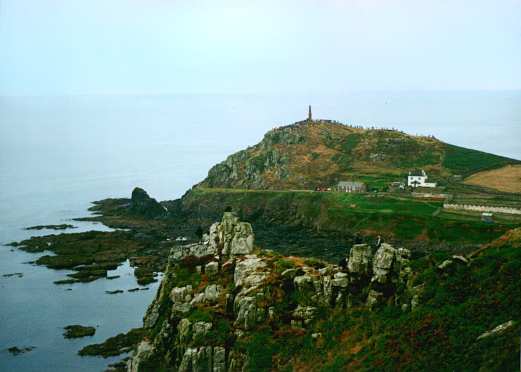 Cape Cornwall with people gathered to watch the total solar eclipse of 1999.
Coordinates: 50.127°N 5.706°W
Ordnance Survey grid reference: SW371315
Cape Cornwall is the headland visible across the bay from Sennen Cove. It is considered to be one of only two true capes in the United Kingdom (the other is Cape Wrath in Scotland).
The Cape points westwards across the Celtic Sea, part of the Atlantic Ocean.
Built in 1864, the Cape is surmounted by the chimney stack of the Cape Cornwall Tin Mine, which operated from 1836 to 1879. The mine is part of the Cornwall and West Devon Mining Landscape, a designated UNESCO World Heritage Site. The mine site was purchased in 1987 by the H. J. Heinz Company and donated to the National Trust.
Cape Cornwall overlooks Priest's Cove (or Porth Ust in Cornish, meaning St Just's Cove) and the Brisons, two small rocky islands.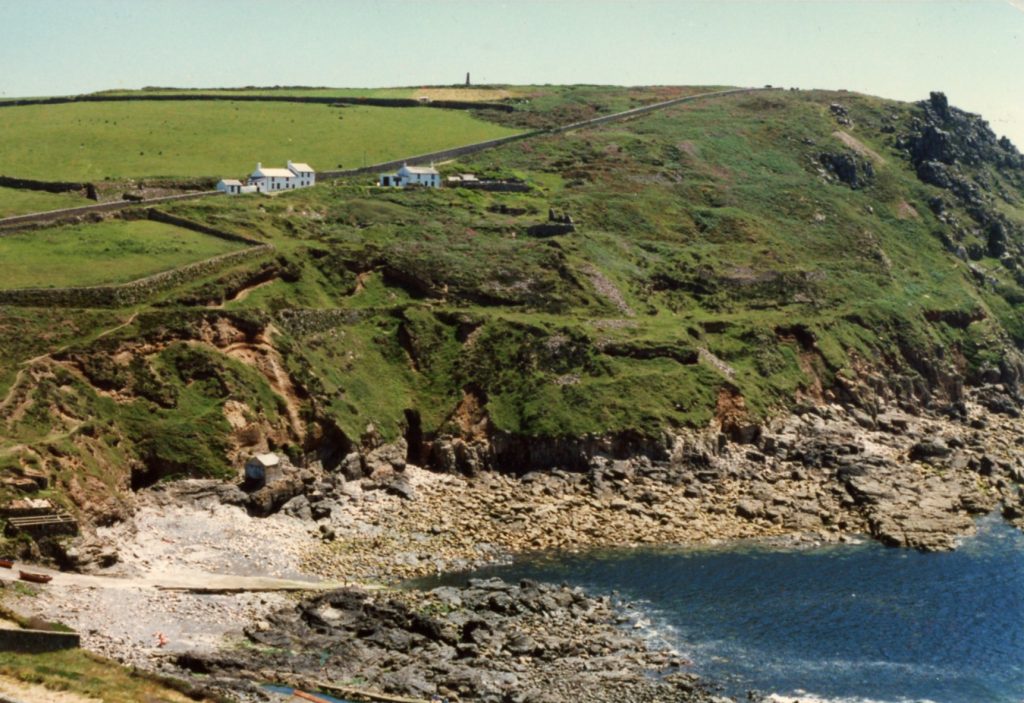 Cape Cornwall was traditionally known as Kilgoodh Ust in Cornish, meaning "goose-back at St Just", although the translation of its English name, Pen Kernow, is more often used nowadays.
The section of the South West Coast Path running from Sennen Cove to Cape Cornwall is just under 6 miles long, but it's well worth the effort.
The Brisons
About a mile off the tip of Cape Cornwall lie the Brison – a double islet of craggy peaks, the largest of which reaches around 27 metres above the waves.  See the main page on the Brisons for more info and photos.