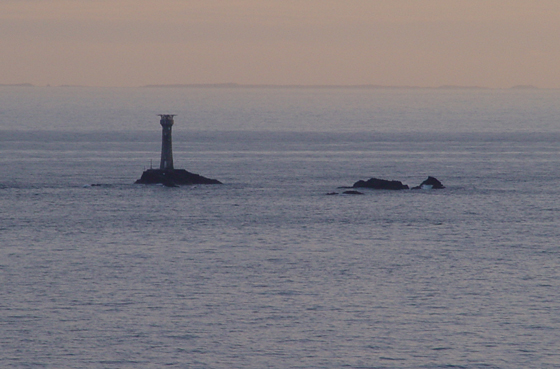 Longships Lighthouse with the Isles of Scilly visible on the horizon.
Coordinates: 50°4′00.69″N 5°44′48.39″W
Longships lighthouse lies around 1.25 miles from Land's End and was built in 1873 to warn sailors of the surrounding Longships islets. This includes the Carn Bras rock – from the Cornish Karn Bras, meaning 'big rock pile' – on which the lighthouse stands.
Longships is 35 metres high with a helicopter landing pad on top, added in 1974.
The lighthouse was originally occupied by a lighthouse keeper before being fully automated in 1988.
Since 2005, the light has run on solar power.
The existing lighthouse replaced an earlier one constructed in 1795.