The current Sennen Cove Lifeboat is the Tamar-class all-weather lifeboat RNLB City of London III, which replaced the RNLB Normon Salverson Tyne-class lifeboat (pictured below) in 2010. There is also a small D-class (IB1) inshore lifeboat, the Amy Brown.
Lifeboats have been stationed at Sennen Cove since 1853, prompted by the loss of the New Commercial on the Brisons in January 1851.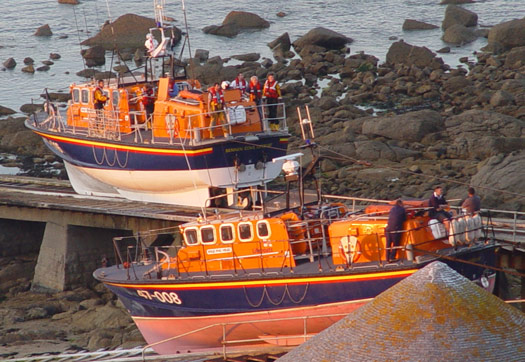 The Lifeboat Station
The existing lifeboat station's masonry walls were constructed in 1929, although the station was given a new roof in 2001 that was high enough to accommodate the taller Tamar-class lifeboat. The roof's metal cladding recently blew off in a storm in February 2022.
The station has two slipways, allowing the lifeboat to be recovered via the shorter ramp in the shelter of the breakwater at high tides, or via the longer launching ramp at low tides.
The lifeboat crews are volunteers, and their work is funded by the Royal National Lifeboat Institute (RNLI) charity.
External link to Sennen Cove Lifeboat Station on the RNLI Website