A stunning sandy cove with turquoise seas, Porthcurno is home to the PK Museum (see below) and is overlooked by the Minack open-air theatre. The name Porthkornow in Cornish means 'pinnacle cove'.
Just over the rocks of Percella Point to the east lies Green Bay, and further round the coast is the tidal beach of Pedn Vounder stretching round to the Logan rock headland, famous for its rocking stone.
PK Museum
Based in Porthcurno's old telegraph facility building, the PK Museum is dedicated to telegraphy and global communications – PK being the telegraphic code for Porthcurno.
In 1870, Porthcurno became the British termination point of a submarine telegraph cable link to India. At one time, between the wars, Porthcurno had grown to become the largest submarine cable telegraph station in the world.
During World War II, flamethrowers where installed along the beach to defend the station from invasion by sea.
External link to Porthcurno PK Museum website
Rowena Cade's Wendyhouse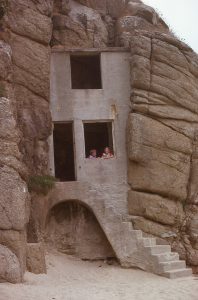 Set into the rocks, near the top of the beach at Porthcurno, is a small, concrete, two-storey house that was built in the 1920s by Rowena Cade – the woman who constructed the Minack Theatre.
Originally, the 'Wendy house', built for Rowena's nieces and nephews, had proper wooden windows and doors. By the time the photo on the left were taken, in the early 1980s, these had been removed, but the house was still accessible. Unfortunately, since then, the door and window openings have been completely cemented over.