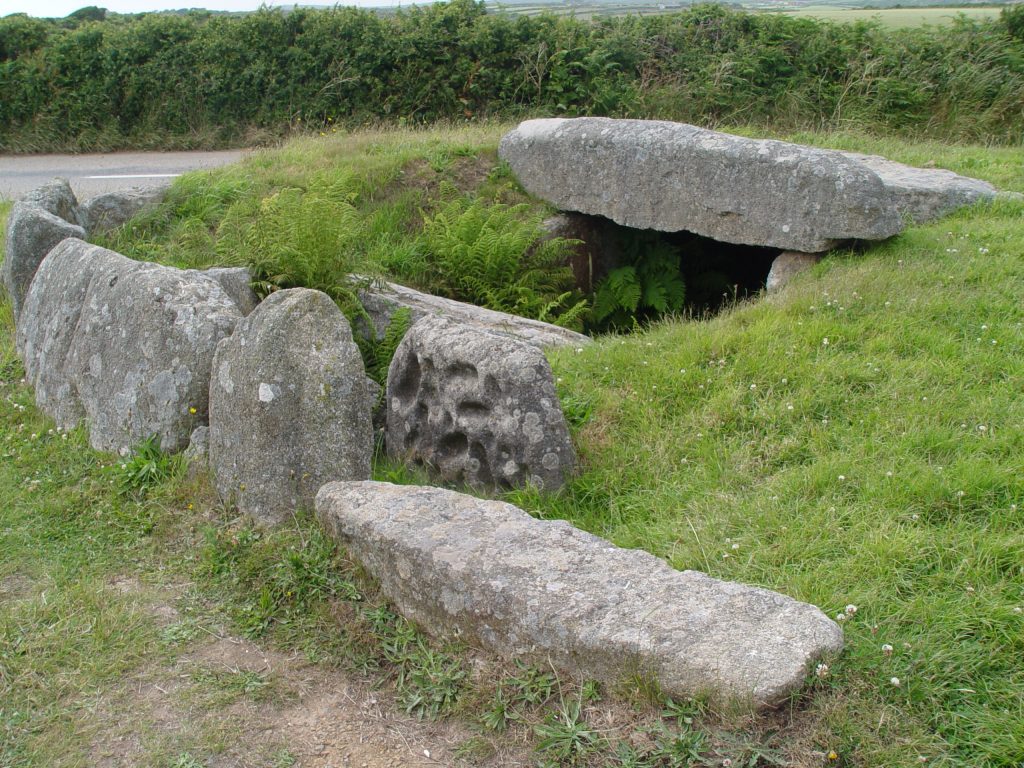 Coordinates: 50.064531°N 5.591786°W
Ordnance Survey grid reference: SW430244
Tregiffian Burial Chamber, Cruk Tregyffian, or Hirvedh Treguhyon in Cornish, is a rare type of entrance grave dating from the late Neolithic, over four thousand years ago.
The tomb is located close to the B3315 just west of Boleigh, near Lamorna Cove, and less than 200 metres from the site of the Merry Maidens stone circle.
Site excavations have uncovered burial urns, bones and ashes from the central chamber that would have been reached by a passageway lined with stones.
There is an ornate stone, with cup-and-ring markings, near the entrance; however this is actually a replica of the original, which is now at the Royal Cornwall Museum in Truro.
A sign placed on the site by The Cornwall Heritage Trust, gives the following information:
"Tregiffian Burial Chamber – Cruk Tregyffian
This chambered tomb or shrine was built between 3000 and 2000 BC during the late Neolithic period: the northern half has been obliterated by the road. There were two phases of construction, suggesting that this place remained holy and was used over a long period of time. It formed part of a larger sacred area marked by several burial mounds and standing stones, together with the Merry Maidens Stone Circle."