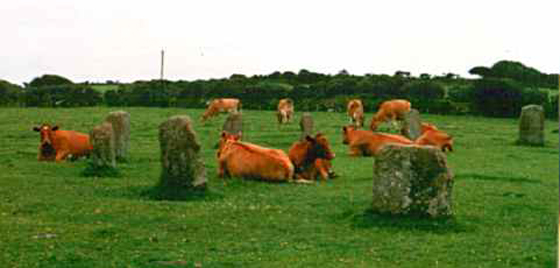 Coordinates: 50.06504°N 5.58973°W
Ordnance Survey grid reference: SW432245
Probably the best known and most perfect stone circle in Cornwall, the Merry Maidens near St Buryan is a circle of nineteen upright stones around 1.2 to 1.4 metres tall. The circle is around 24 metres in diameter, with each stone around three to four metres apart. There is also an entrance gap to the east.
The name derives from the local myth that the stones were maidens turned to stone as punishment for dancing on the Sabbath.
In Cornish, the circle is known as Dons Men meaning 'stone dance', which likely gave rise the circle's alternative name Dawn's Men.
The Merry Maidens stones circle is believed to date from the late Neolithic or early Bronze Age, around 2400 to 1500 BC.
The Pipers Monoliths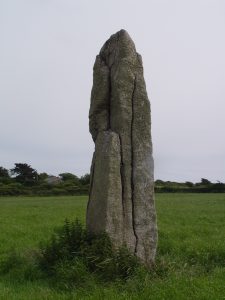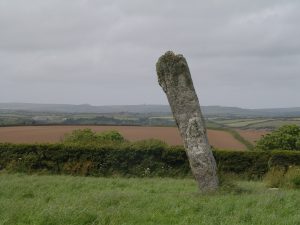 Two larger standing stones, over four metres high, lie some distance to the north-east of the circle.
These monoliths are known as the Pipers and are said to be the musicians who played for the dancers (grid reference SW43512479).
The Nun Careg Cross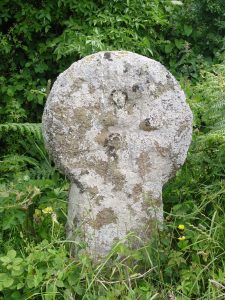 On the B3315, about 50 metres to the north of the Merry Maidens, is the Nun Careg Cross (grid reference SW43292460). This is a small stone cross about 4 feet high. dating from the early medieval period or Middle Ages.
In 1993, the cross was partly uprooted in an unsuccessful attempt to steal it.
The Tregiffian Burial Chamber also lies within a couple of hundred metres, close to the B3315.