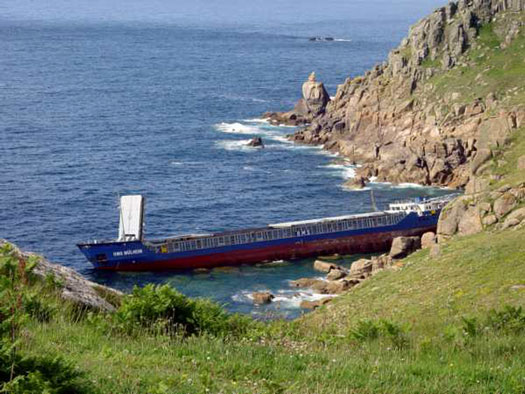 The RMS Mülheim ran aground between Sennen Cove and Land's End on 22 March 2003 at around 4:30 in the morning. All of the crew were rescued by helicopter.
The 90-metre long ship was built in Romania and launched in 1999 originally under the name Zeus. The RMS part of her name stands for Rhein-Maas-und See Schiffahrtskontor – the German company that owned the ship.
She was traveling from Cork in Ireland to Lübeck in Germany when she struck the Cornish coast at Castle Zawn in Gamper Bay. Her main cargo was 2,000 tons of scrap car plastic, most of which was recovered, and only a small amount of her diesel fuel leaked into the sea.
According to the inquest, the accident occurred after the Chief Officer was left alone on the bridge and became unconscious. Apparently, he caught his trousers in one of the levers, fell over and was knocked out.
The shipwreck is easily visible from the coastal footpath, but just a small, rusted stern section of the ship now remains.
Although the wreck is accessible, down a steep hillside from the costal footpath, warning signs posted at the site say that the wreck is dangerous and should not be explored.