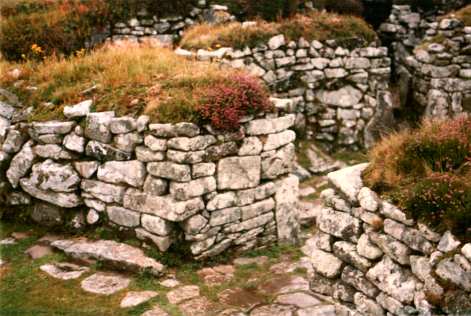 Coordinates: 50.16103°N 5.54022°W
Ordnance Survey grid reference: SW471350
Chysauster is the remains of a late-iron age village, first constructed around 100 BC, and occupied into the Roman period up to around AD 300.
Eight of the village's unique stone 'courtyard houses', built in pairs with terraced gardens and circular living rooms, still survive today as ruined walls up to three metres high.
The oval-shaped houses are around 28 metres across and would have had thatched roofs with a central courtyard, open to the sky, surrounded by smaller chambers.
Chysauster, pronounced chy-ZOY-ster, derives from the Cornish for 'house of Sylvester', and is also the name of a nearby farm. The village's original name is unknown.
The remains of a fogou lie to the South, which was originally a tunnel over 16 metres long. The word fogou derives from the Cornish for cave, and Chysauster's is one of several found in Cornwall. There is much speculation as to their purpose, which might have been as a place of refuge, for religious ceremonies or for food storage.
Further examples of fogous include Pendeen Vau, Boleigh Fogou and the fogou at Carn Euny – another ancient village in Penwith.
Chysauster is owned by English Heritage, who charge a small entrance fee to non-members, and is open from March or April to early November.