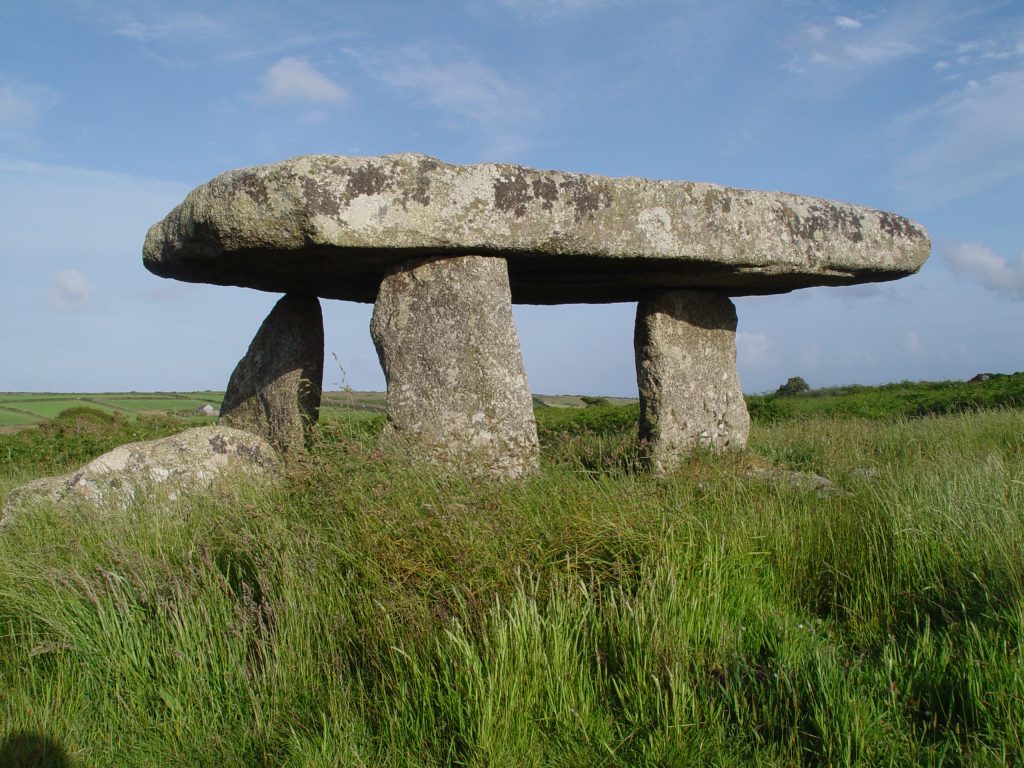 Coordinates: 50.14750°N 5.599167°W
Ordnance Survey grid reference: SW429336
Lanyon Quoit is one of a group of structures known as chambered tombs, dolmen, cromlechs, or quoits, which are some of the oldest remaining stone monuments in Cornwall, dating from the Early Neolithic Stone Age some six thousand years ago.
Lanyon Quoit's capstone was dislodged during a thunderstorm in the last century and replaced in 1824. Before this, the capstone stood about 8 feet from the ground on four upright support stones, one of which was fractured during the collapse.
Legend has it that King Arthur dined at Lanyon Quoit on the eve of his last battle.
See also Chûn Quoit.
"The walk from the Nine Maidens (Boskednan Circle) to Lanyon Quoit takes about three quarters of an hour. You take the path from the circle in the direction of the engine house and after passing through a gap in an old stone wall continue along the main trackway which joins a stretch of old road to the engine house of Greenburrow Mine. From here there are fabulous views of St. Michael's Mount and the Lizard as well as the rocky carns and hilltop forts stretching as far as Carn Brea near Camborne. Lanyon Quoit can easily be seen to the southwest, with the Logan Stone of Boswarva Carn on the skyline behind. Leave the engine house in this direction, crossing the stone stile next to an old rusty gate, ahead of you is the dramatic outline of Carn Kenidjack – the Hooting Carn above St Just – you arrive next at another stile next to a wooden gate. Cross over and turn half left in the direction of the Quoit which can still be seen, follow the track across rough fields littered with settlement remains and in one place what looks like the uncovered passage of a 'chambered tomb'. As you start to ascend the final hill the Quoit disappears from view but as you reach the crest of the hill the Quoit reappears with its massive stones silhouetted against the sky. this is the best approach to the monument – the easy way is to park on the road a few yards away but the effect is quite different and rather disappointing." ['Guide', Ian Cooke, Men-An-Tol Studio 1985]
West Lanyon Quoit
Less than half a mile from Lanyon Quoit lie the remains of a similar structure known as West Lanyon Quoit, also dating from the Neolithic Period. Unfortunately, this Quoit has been largely destroyed with only two large stones remaining – one of the support stones and the capstone.