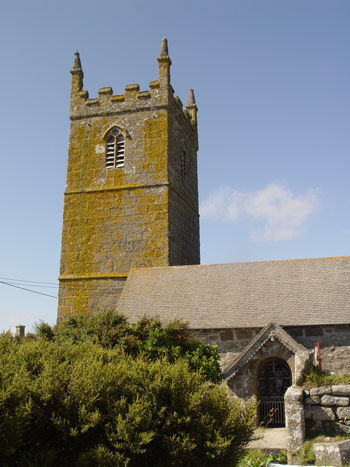 Sennen Churchtown lies about half a mile inland from Sennen Cove and about a mile from Land's End.
Sennen Churchtown would not be large enough to be considered a town by most definitions; however, a churchtown in Cornwall (or Treneglos in Cornish) is the name given to the settlement in a parish where the church stands.
Sennen parish church is located on the A30 road, between the First and Last Inn and Sennen Churchtown Hall. There are also a couple of convenience stores and a post office on the main road, with Sennen School and Sennen Community Center a little further North in the hamlet of Mayon.
As well as the connection to Sennen Cove via Cove Road, there is also a footpath from close to the post office that leads onto Maria's Lane and Stone Chair Lane in the Cove.
St Sennen Church
The church is dedicated to Saint Sennen (also known as St Senan or St Sinninus), who was a sixth-century Irish bishop born in AD 488. He is said to have visited Cornwall and founded the church in AD 520.
Much of the existing church building dates from the thirteenth century, although the tower was added in the fourteenth century and the south isle in the fifteenth century.
A Latin inscription on a stone at the base of the font translates as "In the year of the Lord 1441, this Church was dedicated on [the festival of] the beheading of St John the Baptist″.
A wooden cover on the font was carved by a local farmer, J H Saundry, using wood from the wreck of the Khyber – a ship that was lost near St Levan in 1905.
To read more about the church, visit the St Sennen Church website (External link)