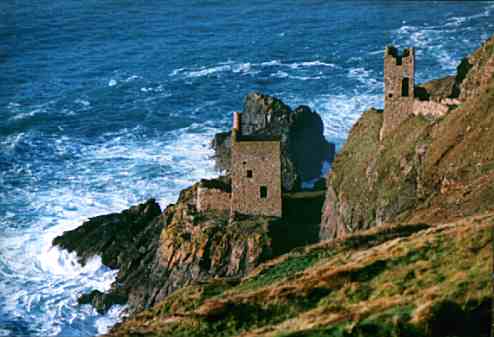 Botallack is a village in Penwith about a mile from St Just and about four miles from Sennen Cove, as the crow or chough flies. Its Cornish name is Bostalek, meaning 'Talek's dwelling'.
Botallack's pub restaurant, The Queen's Arms, is a stone-built tavern that dates from the 18th century, and the 17th-century Botallack Manor House was used in the 1975 TV adaptation of Winston Graham's Poldark novels, serving as Ross Poldark's home, Nampara.
Botallack is situated in a former tin mining area with several derelict mine buildings close by. (See below).
The Botallack Mine Count House, built in 1861, is a Grade II listed building owned by the National Trust that once served as an office and residence for the managerial staff of the Botallack Mine. It is now a holiday let, but the workshop contains a small exhibition with information about the history of the Count House and the mining area.
The Crown Mines
The Crown Mines are two derelict engine houses of the Botallack Mine (Bostalek in Cornish) – a disused tin mine that closed in 1895 due to falling prices of tin.
The lower pumping house was built in 1830 and the upper winding house in 1858, although there is evidence of mining in the area dating from Roman times and possibly even as far back as the bronze age.
The Botallack Mine was once one of Cornwall's richest mines. Its workings ran some 400 metres beneath the sea and its deepest shaft was around 500 metres below sea level. The mine produced mainly tin and copper as well as arsenic and smaller amounts of silver, amethyst, garnet and tourmaline.
The Crown engine houses are now Grade II listed buildings owned by the National Trust and are part of the Cornwall and West Devon Mining Landscape – a designated UNESCO World Heritage Site since 2006.
The Crown Mines are located at 50°08′35″N 5°41′36″W, Ordnance Survey grid reference: SW362335.
Wheal Edward and Wheal Owles Mines
The remains of the derelict Wheal Edward Mine (50°8'12″N 5°41'36″W, SW361328), Wheal Owles Mine (50°8'4.7″N 5°41′ 17″W, SW365325) and the West Wheal Owles Mine (50°8'14", 5°41'32″W, SW362328) engine houses are also situated close to Botallack.
See the Penwith Map page for more sites from the Cornish mining Landscape.